I love racing. I love it. Even when I'm not pushing for time, I love the environment, the atmosphere, the thrill of the event, the bling at the end (can't forget that now!). So no one should be surprised that I finished the Ogden (did I mention how amazing that was?) and pretty much immediately signed up for the inaugural Youngstown Half Marathon–because who doesn't want to race every weekend?  That said, and I actually emailed the RD to make sure we could do it–race day pickup was my deal breaker. I was already making two trips to Ohio that week, a third was fine, but a fourth to pick up race packets was a non-starter. Fortunately, they said race day pickup was fine so the hubs and I signed up. A group from my running club was going, it was gonna be a good day.
Sunday morning we got up stupid early–really stupid early, like 3:30 AM–to get ready so we could head to Youngstown. Mind you the drive takes an hour 15 to an hour and a half, wanted to get there around 6 for packet pickup, race started at 7. So we left at 4:30. Which was slight overkill, but hey, live and learn. Got there, got our packets, got warmed up and ready, got the group photo for the running club, and soon we were in the street ready to start.
Great course, great great course. The half is mostly through Mill Creek park, which I have run before, though man, did I forget about the hills. Like I knew that hills were a thing, but after the Ogden last weekend I kind of brushed them off. MISTAKE. I struggled on this course, much more than I did at Ogden, largely because I underestimated the hills. Admittedly my nutrition has also been off balance lately, and I suffered for that as well. Plenty of good moments during this race, though. I flew on the downhills (that's always been a strength of mine). And this bridge, in the middle of the park, which I LOVE: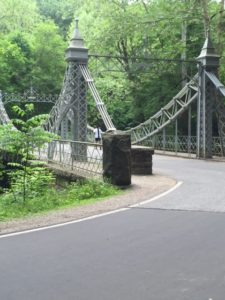 It was the first year for this event and it was really well done–well organized, well executed, and I was overall pleased with the experience. The problems I had had zero to do with the race itself, and I would definitely consider this race again. Also…check out this medal! The photo does not do the glitter justice: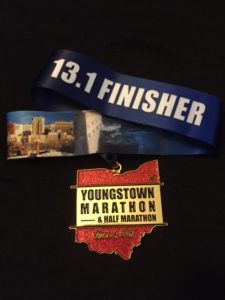 And in other news, when I went to update my stats on the Half Fanatics website I realized that I was soooo close to mooning up…I just needed one more race within a week. Sooooo I signed up for another half marathon this weekend. Closer to home on the GAP trail, a smaller event but it will still be nice and will get me that last race (4 half marathons in 37 days) I need to moon up.
Lots going on as I prepare for a round of full marathon training, but more on that later. Happy Monday, friends.