So, I'm a a little crazy. We all know that. I love to run races. I don't always race them, but I LOVE to take part in them. So I decided it was a good idea to run a 5k the week after my full marathon. Mind you my marathon was not a PR race, and I recovered quicker than I expected–I ran with my crew that Wednesday night and kicked so much ass. So I went to Ohio to run this race with my best friend and her husband. I initially had no plans to 'race' it. Just run it. But then there was the threat of her competitive streak coming out so I offered that she could pace me. And she took me up on it.
I'm used to running with people, but not actually having a Pacer. I'm used to being able to do what I want, essentially, which means I seldom push myself as hard as I could. I back off, as is my MO. Not something I'm necessarily proud of, but its how I operate. We didn't really discuss strategy, which was a mistake. We went hard at it for the first mile plus. And then I started to panic, and couldn't regulate my breathing. I took a minute and got myself back under control and DID manage to pull off a 5 second PR on my 5k time. Getting there.
What kills me is that I know I could have done better if I hadn't panicked. And there was no good reason for me to have panicked. Physically I was fine. Mentally…that's another story. I got in my head, and I, quite literally, choked.
Still it's a fun little race, and I'm glad I did it. I'm glad my bestie paced me (even though I wasn't thrilled at the time).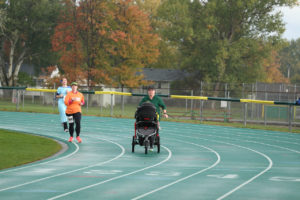 my bestie and I nearing the 5k finish
If I had written this post a week ago, right after the race, it would've been different. But it's been a big week. A lot has happened (mostly good) and I am able to see connections in hindsight. More soon.