"You do not appreciate how far you have come."
That pretty much sums up this week (while also being one of the biggest understatements of my life). Damn this week was an emotional rollercoaster.
Monday, I had a timed mile workout–since the next big goal is Liberty Mile and the challenge that started this whole thing–we needed to get a baseline for where I am at this point in my training. And the results were decent–9:10, about 45 seconds faster than Liberty Mile last year. Not what I personally had hoped for (I was hoping for sub-9) but not terrible. And I definitely gave my all–I had 2 more miles after that to do and my calves were TOAST after that mile…I walked a LOT of the next mile trying to get my legs back under me, which frustrated me, but again, is what it is. I guess the seeds of what would come later were planted in this workout.
Tuesday was unremarkable. Solid workout at the gym. Wednesday, however, was a big old mess. I was in a bad headspace. Still kinda miffed at my performance on Monday, my brain went back to the half and I was pissed that I missed that goal. Then I looked at my tempo workout for that day and instantly felt defeated–I just knew I couldn't do it. I frequently look at my workouts and know it's going to be a stretch–but that's the POINT. If I don't go for things that seem just slightly out of my reach I won't improve. I get there by going for it. But in that moment, this workout felt impossible and I spent all day worrying about it and when it was time to execute I fell apart. I *couldn't* do it. I couldn't get myself anywhere *close.* The wheels came off. I literally stopped and cried on the trail at one point. It was as though every negative thought I've ever had about myself was presenting itself for duty during that run (and given my general tendency to be overly self-critical…this is no small feat). I got through it and got 5 miles in, nowhere near what I wanted or what they should have been but done and on the books no less.
I went home and tried to talk it out with my BRF, or more accurately, I lost my shit and he tried to give me perspective and talk me down. It didn't really work. I went to bed hoping some sleep would hit the re-set button and I'd feel better in the morning. It did, a little. I was able to be a little more objective about the run. Sent my coach a list of the things I thought went wrong. I spent the day being more gentle with myself and trying to give myself the grace and space to work through these feelings.
It all comes back to the deeper issues of the dissonance I've been talking about. I don't see myself as I am, I see myself as I was and I compare that with what I think I *should* be. And that chasm–invisible though it might be–causes me a lot of distress. When I'm upset about anything, my instinct is to turn that inward and beat myself up–my run wasn't bad for these 5 external reasons, my run was bad because I'M not good enough. I'm weak, lazy, slow, and fat. The things I've always written myself off as and tried like hell to show I'm not. My logical brain realizes that none of these things are true. I am very much a work in progress, but none of the insults I hurl at myself, the things I've said since I was a teenager, are true. I've worked my ass off to get where I am–personally, professionally, as a runner–and I'm quick to discount all of that the second something doesn't play out the way I want it to.
I gave myself space on Thursday to process, to recover, to be. And that helped. I went to bed early and was in a much better frame of mind when I got up on Friday. Had a really great workout on Friday night, and a great run on Saturday morning. Sat around after the run drinking coffee and having breakfast with some of my friends. The subject at one point turned to weight loss–as women and runners something we all have at least some experience with. Old pictures started to surface. I pulled up one of my most-striking: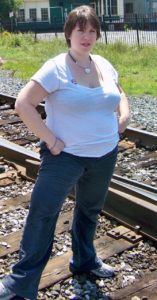 Wow. I'd never have realized that was you. Which strikes me as odd because that's basically how I see myself. Intellectually, I get it. Intellectually, I know better. But my self-image is that I'm still 200 pounds…It may not be who I see in the mirror, but it's who I see in my head. Hard, concrete, irrefutable evidence is starting to chip away at this fallacy. I had a good dose of that over the weekend. Those moments that make you go "Fuuuuuuuuuuuck" because you realize that you've been really wrong this whole time. I consciously recognized this weekend how far I've come. Not just the lip service of posting old running workouts to Facebook comparing them to more recent ones, not just a 'transformation Tuesday' insta post that's hard for me to look at. But actually, consciously, realizing that I've been flat out WRONG about myself and that there are things I need to stop saying to myself to get out of that headspace. Denial is a big part of dissonance, especially in my case. After so much evidence presents you can't deny any longer and I'm hitting that point.  Baby steps. Inching ever closer to my goals and the person I want to be.
Lots more to say, but for now it's time to get to work. More soon.