So, last week I ran the Youngstown Half Marathon, which kicked off a week of stuff–at least in theory. I rested on Monday. Tuesday I had KB class. Wednesday was originally supposed to be my first speed workout, but it was cancelled for The Big Run for Global Running Day, which I was going to do with some SCRR East Enders. BUT…due to GPS issues (I'm directionally challenged) and traffic, I didn't end up making it. So I went to Monroeville Community Park for 3 miles. Thursday I went to Y-OWL-ga at Humane Animal Rescue–which was really cool.  Outside on their deck, the weather was perfect, the class was really good–I'm not a big yoga fan, I'm very type A and in my admittedly limited experience, I don't usually feel like I'm working 'hard' enough when I do yoga (I'm sure this is a matter of finding the right class and teacher, but it's my truth)–but it was a positive experience even though I would've preferred a tougher workout. And we were with these two beauties: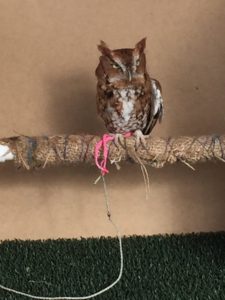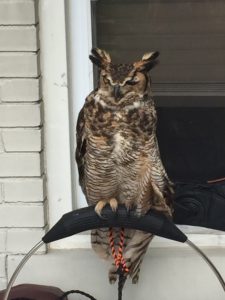 On the left we have Mellie, a screech owl, and on the right is Martha, a great horned owl. They both have wing injuries that prevent them from being released back to the wild, so they live at the rescue. Martha fosters baby owls, so they joked this was her night off.
Friday I had KB class, Saturday I "rested" (errands and domestic stuff, but no workout), and yesterday I "ran" (using the term loosely) the RSD Awareness Half Marathon. It did not go well for me. I can't even blame the heat, my head just wasn't in the right place with it–I strictly signed up because I needed one more race to 'moon up' in Half Fanatics so I wanted to do it. It was tough going for me, largely because it's a smaller race and I do better with crowd energy and positive peer pressure from other runners–it was difficult to keep pushing when I was mostly by myself. But hey, I finished, so I mooned up, and I'm happy. I love racing, I love it, and I would've raced this past weekend for sure, but I probably would've done a 5k or 10k instead of a half had I not wanted to moon up.
This week is Shaun week on Beachbody On Demand–brand new workouts from Shaun T–the man behind my beloved Insanity. I cannot wait! It will be a good challenge before marathon training starts. Capping this week off with my 12-hour endurance event. I had big goals for it at the outset of the year, but I care less about that now. I just want to go out, have fun, and see what happens.
Happy Monday, friends.