Missing some race reports, but clearly if they'd been particularly noteworthy I would've found it in me to post…so no sleep lost. This weekend I completed race #30 for the year (so far)…10 more to go to meet my goal.
This is a fun race, I did it last year. 5k with a medal, and you all know I love the bling. Flat and fast course at the airport. I did not PR this year, I was about a minute off, but it was better than my past few 5ks had been so I was happy with it. I *might* have PR'd, but my phone fell out of my belt at one point and I lost some time doubling back to get it. That doesn't account for the whole minute, but there also came a point that once I knew I wasn't going to PR I didn't dig as deep as I could've if I'd been close.  So oh well, is what it is. Overall I'm happy with it. I'll probably do this race again because it's fun and kinda different.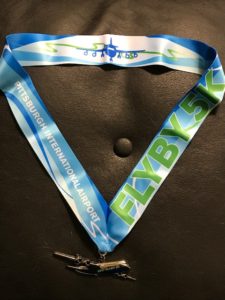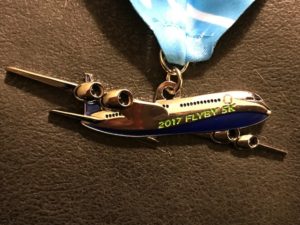 After the race I made a whirlwind trip to Ohio for the day for a much needed visit. Really low mileage last week, and its making me vaguely crazy. Definitely need to log some more miles this week. That said–I'll be happy when marathon training is over. A few more weeks and the race will be behind me, which I'm really looking forward to. I'm excited to move onto the next set of goals and adventures. Big plans in the works for 2018…
Happy Monday, friends.