Lemme tell you, this week was ROUGH. I love holidays, but short weeks at work are always the worst–maybe that's where some of my aversion to taking time off comes from? I don't know. But yesterday was just a bad day all around. Details aren't important here, but I took the evening off from training to regroup and try to come at the weekend with a better attitude.
So Tuesday…I ran a race. The Brentwood Firecracker 5k. I haven't done this race in about 4 years (last time was 2013 when I literally lived a few streets away in the neighboring borough). It's a tough course–lots of rolling hills and you finish uphill. And it's in July so it's HOT. But it's also hugely fun–it's BIG race (over 2,000 runners for a 5k–and that is the only distance), it takes place right before their 4th of July parade so the streets are literally lined with spectators (whose chairs have been saving their parade spots for the better part of a week). The race started at 9. It was HOT. I was pissy that I'd worn my awesome go 'Murica outfit instead of finding something more weather friendly. I didn't have high hopes for the race. It was HOT (have I mentioned that?), I'd been having some crappy runs, it's a tough course. Whatever, I'd have a good time even if my time wasn't good. And I was going to tailgate with some people from our running group after the race, so it was going to be a good day.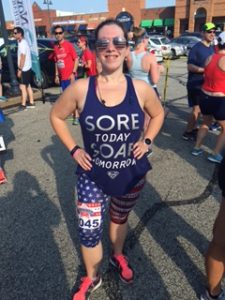 The race starts. I take off, and it's going better than expected. I pushed through miles one and two and was happy with how I was doing. Then I fell apart in mile three. I just couldn't make myself go. I walked what felt like an awful lot. I ended up with a course PR, but nowhere near my 5k PR, which at first I was fine with because I wasn't expecting it anyway.  I went about my day without giving it too much thought. The rest of the holiday was good.
The next day I realized I could've actually PRd this race if I'd pushed just a little bit harder in that last mile. If I'd dug just a little bit deeper I could've pulled it off. And this annoys me. I'm not beating myself up over it, but I'm definitely annoyed that I folded during the race. Motivation to push harder next time (in the SCRR Flash 5k next Thursday…).
Took part in the group run again on Wednesday. Definitely need to revamp the training schedule–I feel like I need the group run. Speed work will have to factor in somewhere else–which will be good training in discipline for me since it's something I struggle with doing. The run itself was rough, but I managed to get through 4 miles–a solid mid-week distance for this point in my training. Kettlebell class tonight and long run tomorrow (ha! long run! it's only 6 miles this week) as long as the weather holds up. Maybe I'll try to find a 10k to show up for to make it more interesting and redeem myself for Tuesday.
Happy Weekend, Friends!